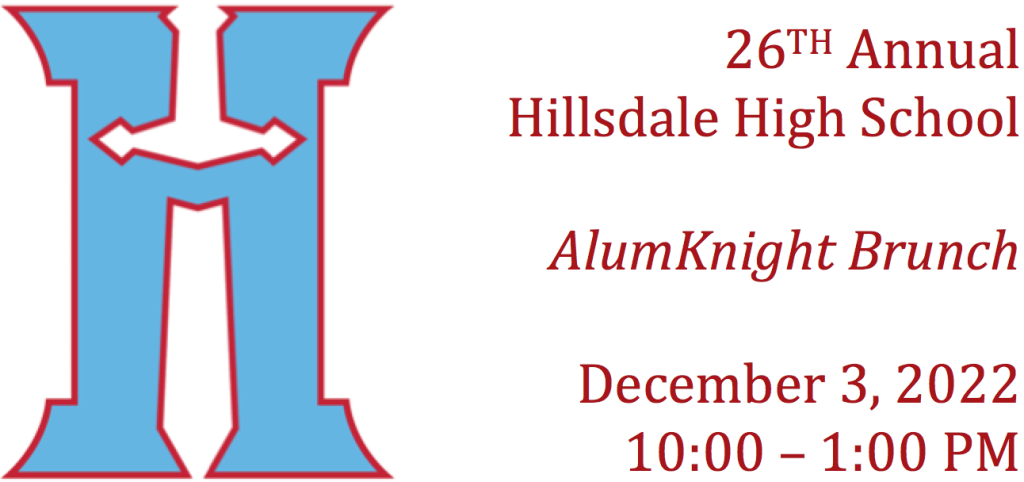 Greetings Knight Alumni,
After a 2 year COVID hiatus, We're Back! New and Improved!
Click here to register for this year's 26th annual Hillsdale AlumKnight Brunch.

For 25 years we have been gathering at the San Mateo Elks' Club on the first Saturday in December, first as Olde Knights (The Olde Knights' Luncheon), next as Olde and Mid-Knights (The Hillsdale HS Alumni Luncheon), and in the time of COVID, after being freed by Zoom from the physical limitations of the Elks' Club, we invited the Young Knights to join us. Now that we are returning to the Elks' Club, we are honoring that precedent and again inviting ALL ALUMKNIGHTS to our traditional yearly event, now renamed as The AlumKnight Brunch. This will encourage an earlier reconnection with all who share the common bond of our high school years at Hillsdale. Go Knights!
To qualify for the luncheon, you must have graduated from Hillsdale High School. Teachers and staff members are also included. Spouses or significant others are not included unless they too attended HHS. This is not a typical high school reunion. You will be able to visit with friends on either side of your class, meet new friends, and chat with some of your former teachers.
To insure yourself a place at the brunch Register Now. Due to a change of room availability at the Elk's we are limited to 200 guests.
And while you are registering, please consider also making a donation to the Keith and Cecile Gordon Memorial Fund. Generous donations from Hillsdale Alumni have made it possible for the HHS Alumni Association to fund annual $2,000 scholarships to honor Keith and Cecile, Homer Zugelder, and Rich Mazzoncini in addition to projects identified by Hillsdale to support current Hillsdale Knights. Our goal for this year is to raise $15,000. Click to Donate, to learn more about the K&C Gordon Memorial Fund, and to see photos of our 2022 Alumni Scholarship Recipients.
• For pictures and a history of the AlumKnight Luncheon/Brunch (AKA the OKL), click on these links:
• Video of 2020 Virtual Luncheon Tour
• To guarantee receipt of future emails, join the Hillsdale HS Alumni Association. Registration is free and only a click away. Join Now!
• COVID 19: Vaccinations are strongly recommended for AlumKnight Brunch attendees, as is testing if one is experienceing symptoms approaching the event date. Neither will be required. Wearing of masks will depend on individual preference, and outdoor tables will be available. We expect all will assume responsibility for one another's health and safety.
• Our invitations, information, and registration are now being done electronically. However, if necessary you are also able to register and/or donate by mail. A print copy of the registration form is available here.
• If you have questions, please email us at alumni@hillsdalehsfoundation.org.
Thank you for your generosity and we look forward to seeing you for Brunch on December 3rd!
Your Hillsdale High School Alumni Association and AlumKnight Brunch Committee
Bobby Aguirre ('84), Chuck Borrecco (Faculty), Jan Busa ('71), Sherry Edmondson Campbell ('81), Leslie Kelley Ewing ('63), Julee Flores ('96), Walt Gmelch ('65), Al Landucci ('61), Don Leydig ('63), Bridget Michelson ('88), Corey Stanley ('82), and Todd Zucker ('63)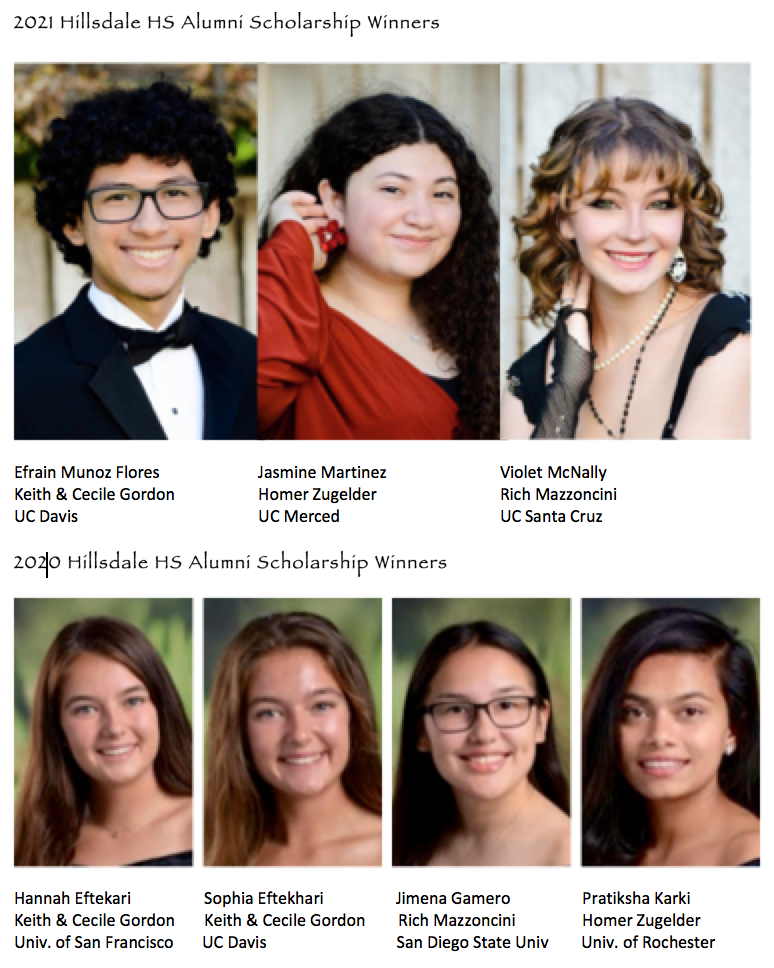 Previously Funded Projects:
Classroom Computer Carts • Mike Abbott Learning Center • Empowerment Through Action Program • College Application Support • Digital Media Class Equipment